The Manifest Hails Appluex as one of the Most Reviewed App Developers in Miami
There are a lot of new technologies and game-changing solutions in the app development industry. As a matter of fact, a lot of companies and businesses have been utilizing apps in order to improve their services, and processes. If you are interested in doing the same, then the Appluex team is here to help. We can help turn your ideas into reality and create amazing products and solutions for them.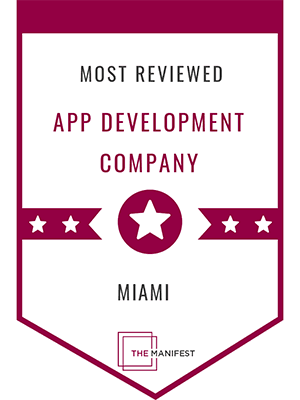 This dedication to developing great applications in the market has been rewarded by multiple awards and accolades from the market. As a matter of fact, we've been recently named one of the most-reviewed app development companies in Miami by The Manifest.
The Manifest, for those of you who aren't familiar with them, they are blog site that aims to gather and verify the hard data, expert insights, and actionable advice that you need to build your brand and grow your business – to provide the practical business wisdom that manifests in your success. Their platform showcases industry leaders from different industries all around the world.
This is a massive win for us and our team as this award represents the hard work and dedication that we've mustered over the years. To show our gratitude to our clients who massively played a huge role in helping us bag this accolade, here are some of our favorite reviews from you guys!
"Appluex is extremely skilled at what they do, without a doubt. However, what put them over the top was their care for the client, ensuring that we were given exactly what we wanted and then some." Brendon Stickler, Director of Sales & Marketing at AgResource Company
"Essiel and his team are problem solvers, and working with them has been a breath of fresh air. Appluex doesn't just find issues; they come with solutions and suggestions, and we work collaboratively to address problems. " Maggie Rose Macar, Founder & CEO of Zant
today and receive a free consultation!